It Is Suitable For
· Those in Tokyo who need slimming treatment.
· Those with stubborn fats around the body.
· Those with sagging fat and skin on the abdomen.
· Those who wish to contour the body shape.
· Those who wish to look slimmer and have a better appearance.
What is i-Lipo Xcell?
i-Lipo Xcell is an innovative device consisting of 4 technologies: intelligent body fat analysis and measurement, laser diode fat reduction, IR Vacuum massage, and radio-frequency skin tightening.

The procedure is performed to reduce stubborn fats and contour the body non-surgically with no downtime.
How It Works
i-Lipo Xcell works by emitting low levels of laser energy, creating a chemical signal in the fat cells that results in breaking down of the stored triglycerides into free fatty acids and glycerol, thus releasing them through channels in the cell membranes.
Treatment Areas
· Upper arms
· Abdomen
· Thighs
· Buttocks
· Calf
i-Lipo Xcell Procedure
1. Consultation and examination of the body condition
2. Measurement of the circumference of the treatment area
3. Diode laser irradiation
4. Massage by vacuum
5. Measurement of the treated area
6. End of treatment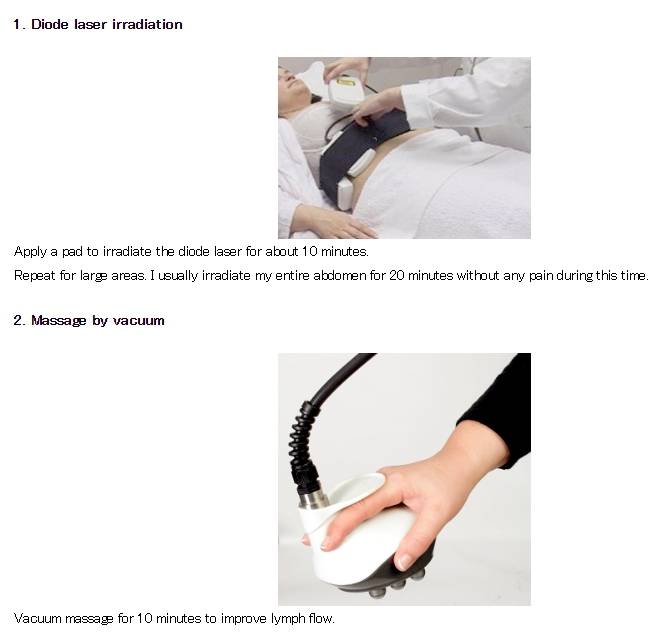 Advantages and Limitations of i-Lipo Xcell
<Advantages>
· Reduces stubborn fats on the body
· Contours the body shape
· Fast procedure
· Safe and comfortable
· Immediate results
· Non-surgical
· No downtime

<Limitations>
· A few sessions may be needed for some condition
i-Lipo Xcell Preparation
· Avoid fasting prior to the treatment
· No heavy meals 2 to 4 hrs prior to the treatment
· Drink a little more water prior to the treatment to stay hydrated
· Avoid alcohol consumption for 1 to 2 days prior to the treatment
· Avoid coffee, tea or other carbonated beverages before the treatment as those can cause bloating
i-Lipo Xcell Post Care
· No heavy meals 2 to 4 hrs after the treatment
· Stay hydrated is important to help in fat release
· Light exercise is recommended after the treatment
How To Exercise After Treatment?
To metabolize fatty acids that are released; plan on one hour of cardio and/or strength training. You must burn approximately 400 calories within 4 hours to metabolize the fatty acids. To achieve
optimal results exercise within 1-2 hours post-treatment as this is the "peak" of fatty acid burn period.
FAQ
Q1: What if I cannot exercise after the treatment?
A1: If exercising cannot be achieved post-treatment the triglycerides will return to the fat cell and you may experience mild indigestion and/or nausea.

Q2: Is the treatment painful?
A2: The treatment is safe and painless using low-level laser diode system that can be used on all skin types and body areas.

Q3: Is there any downtime?
A3: There is no downtime and you can return to normal activity immediately after the treatment.

Q4: How many sessions needed until I can see the results?
A4: Results can be seen immediately right after the first session.

Q5: How many sessions are recommended for ideal results?
A5: Eight treatments are recommended, two per week for four weeks.
Clinic Information
[Clinic Name] Aoyama Celes Clinic
[Location] Tokyo, Japan
[Nearest Station/ Nearest Tourist Destination] 1 min walk to commuter/metro station, 4 mins walk to art gallery, 4 mins walk to FamilyMart, 5 mins walk to medical center, walking distance to many restaurants and banks
[Clinic Opening Time] Monday to Sunday (9:30AM - 8:00PM)