It Is Suitable For
· Those stomach toning surgeries in Tokyo.
· Those with good skin tone and elasticity.
· Those who wish to remove excess fat deposit or loose abdominal skin.
· Those who wish to tighten their abdominal muscles.
· Those who wish to have an improved upper abdominal curve.
What is Stomach Sagging Surgery?
It's common when you have lost weight either through exercises or through surgery, your previous contracted skin will now sag especially in the stomach area. Similar to liposuction, stomach sagging surgery performs fat removal together with additional procedure to remove sagging skin of the stomach so that the stomach circumference is dramatically refreshed.
Stomach Sagging Surgery Procedure
General Stomach Sagging Surgery Procedure as follows:

1. Anaesthesia will be administered
2. Incision will be made to cut the subcutaneous fat onto a W shape along your pubic bone from end to end of your hip bones
3. The peeled skin and fat will be pulled down to the incision line and remove all the sagging skin and fat
4. Skin will be sutured
5. A drain will be inserted under your skin to prevent blood accumulation under the skin
6. Stomach will be pressed and fixed
Advantages and Limitations of Stomach Sagging Surgery
<Advantages>
· High success rates
· Improves quality of life
· Alleviates incontinence and back pain
· Permanent results

<Limitations>
· Rare complications include infection, significant pain and numbness, and bleeding
Stomach Sagging Surgery Post Care
· Avoid doing sports for 3 to 6 weeks
· Always wear a compression bandage for 6 weeks
· Do not apply ice packs or heating pad over treated area
· Always keep the incision area dry and clean
· Alcoholic beverages should not be consumed 48 hrs before and after the surgery
· Strenuous activities may be resumed 1 month after
· The bruised area should be treated with ice gel 5 to 7 times a day for 15 to 20 mins.
FAQ
Q1: Will it leave any scars?
A1: Yes, you will have a scar but it will not be noticeable since it can be hidden with undergarments.

Q2: Will it hurt?
A2: General anesthesia will be performed to ease the procedure and ensure you are calm throughout.

Q3: Is internal bleeding a common side effect?
A3: Yes, it usually appears as bruises and can prolong until 3 weeks.

Q4: Can I resume my normal routine immediately after?
A4: It is better to refrain from two weeks of hard work. Office work and housework can usually be done as usual after 2-3 days. However, there are individual differences in how you feel the pain, so it is recommended that you do not overdo it after surgery.
Clinic Information
[Clinic Name] Aoyama Celes Clinic
[Location] Tokyo, Japan
[Nearest Station/ Nearest Tourist Destination] 1 min walk to commuter/metro station, 4 mins walk to art gallery, 4 mins walk to FamilyMart, 5 mins walk to medical center, walking distance to many restaurants and banks
[Clinic Opening Time] Monday - Sunday (9:30AM - 8:00PM)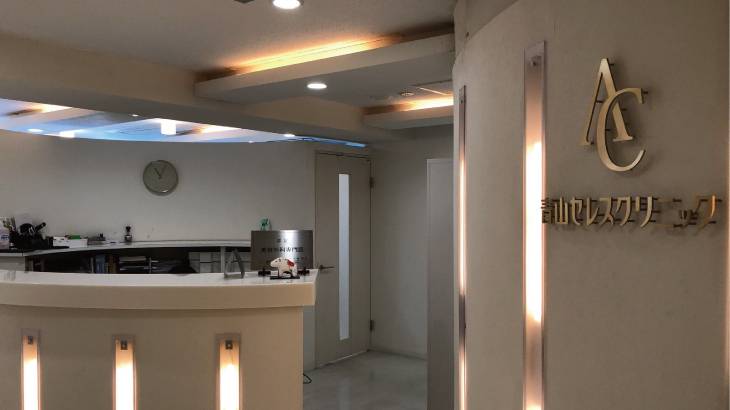 | | |
| --- | --- |
| Operation Time | 2 hrs |
| Recovery Time | 2 - 4 weeks |
| Number of Postoperative Visit | 1 time, 3rd - 7th day after surgery |
| Hospitalization | Not Required |
| Other Information | Please report any allergies and side effect histories before surgery / procedure. |
| Cancellation Policy | Once booking is made, penalty fees will be charged for any cancellation of appointment |
| Include In This Price | Consultation Fee, Interpreter Fee, Tax, Anesthesia |
| Location | Aoyama Celes Clinic, Tokyo - Kita-Aoyama 2-7-26 land work Aoyama Building 7F, Tokyo, Minato-ku, Yubinbango, 107-0061 |