It Is Suitable For
· Those in Osaka, Japan interested in slimming face.
· Those with excessive fat/flabby skin.
· Those who wish to improve the overall facial appearance.
· Those who wish to reduce the extra fat on their face.
· Those who wish to have a slimmer face without surgeries.
What is BNLS neo?
BNLS neo, in another known name, is a fat-dissolving injection, a procedure done to eliminate the fats accumulated underneath the skin by softening them and melting them with phosphatidylcholine, an ingredient present in the injecting solution.

At our affiliated, it is recommended to have at least 3 sessions done (1 session per week) to obtain the visible results.
How It Works
The main ingredient of BNLS neo is phosphatidylcholine.
Phosphatidylcholine is injected into subcutaneous fat with a fine needle. Not only the fats will be discharged, but waste products trapped within the skin will also be discharged as well.

BNLS neo Injection, which is known as "Small Face Injection" or "Face Diet", has a high facial thinning effect. Also, since the main component is a plant-derived component, there is almost no downtime. Above all, there is little swelling, and swelling is a big advantage especially for small face treatment that is difficult to hide. As a result, it has become possible to meet the needs of making the area around the eyes clear, making the nose and nostrils smaller.

Other than treatment on face, BNLS neo injection is also applicable on the body such as the upper arms, back fats, waist, and thighs.
Features of BNLS neo
· Lipolytic action
Increases metabolic rate and optimize the mobilization of stored energy

· Vascular strengthening and lymphatic circulation drainage
Promotes healthy circulation

· Tightening effect
Boost collagen production and revive youthful skin
Treatment Area and Recommended Injection Amount
· Forehead: 1.0 cc
· Upper eyelid: 1.0 cc
· Temples: 1.0 cc
· Nose: 1.0 to 4.0 cc
· Cheekbone: 1.0 to 4.0 cc
· Cheeks: 1.0 to 2.0 cc
· Lower cheel: 1.0 cc
· Salivary gland hypertrophy: 2.0 to 4.0 cc
· Lower jaw: 3.0 to 5.0 cc

The amount injection may vary depending on your condition
BNLS neo Procedure
1. Consultation and examination of the face or body condition
2. Measurement and marking of the area to be treated
3. Application of local anesthesia
4. Injections will be made with a very thin needle
5. Injected sites will be massaged to activate the effect
Advantages and Limitations of BNLS neo
<Advantages>
· Slims down within 3 weeks (1 session/week)
· Very safe procedure
· No downtime
· Suitable for those who are moderate and lean

<Limitations>
· A few sessions needed for the results to be visible
FAQ
Q1: How do I know if I should not receive mesotherapy?
A1: The "phosphatidylcholine" contained in mesotherapy (fat dissolution injection) is mainly soy-based. Therefore, those who are allergic to soy cannot undergo mesotherapy.

Q2: How long do the results of mesotherapy last?
A2: With a healthy diet and proper exercise, the effect can be maintained.

Q3: Are there going to be any side effects after my injection?
A3: Although there are no symptoms that are usually considered to be side effects, in rare cases there may be allergic reactions such as redness and itching. It usually improves within a few hours. In addition, some may develop allergy reactions.

Q4: Where can mesotherapy be done? Can I have it on my face?
A4: You can do this if the doctor agrees. But as a general answer, it can indeed be performed on the face.

Q5: When will the benefits of mesotherapy come out?
A5: You may be able to feel the effect from the first time, but usually the treatment effect is exerted by repeating about 5 injections at intervals of 1 to 2 weeks. The treatment effect can often be realized from about the third time.

Q6: Does mesotherapy cause swelling or internal bleeding?
A6: There is usually neither swelling nor internal bleeding. However, in rare cases, slight swelling and redness may occur on the next day, but it disappears within a few days to a week.

Q7: Does mesotherapy improve double chin?
A7: Double chin improvement is possible. Mesotherapy can be effective wherever there is fat.
Clinic Information
[Clinic Name] The Clinic
[Location] Osaka, Japan
[Nearest Station/ Nearest Tourist Destination] Around 5 mins walk from JR Osaka Station South Exit. Near to malls and Family Mart.
[Clinic Opening Time] Everyday (10:00AM-7:00PM)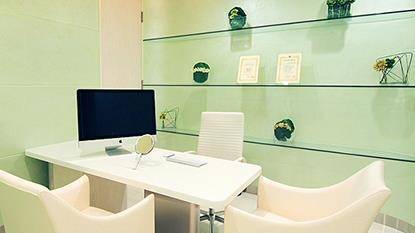 | | |
| --- | --- |
| Operation Time | 10 - 45 mins |
| Recovery Time | None |
| Number of Postoperative Visit | Not required |
| Hospitalization | Not required |
| Other Information | Patients are required to fill in the counseling form and agreement prior to the treatment. |
| Include In This Price | Anesthesia, Post-operative Examination Fee, Medicine Fee, Consultation Fee, Tax, Interpreter Fee |
| Location | Japan, 530-0057 Osaka, Kita Ward, Sonezaki, 2 Chome−12−4, 6F |