It Is Suitable For
· Those in Phuket, Thailand looking for a non-invasive cellulite reduction treatment.
· Those with cellulite/stubborn fats.
· Those with squeezable fats and dimpling skin.
· Those who wish to slim down from excess fats.
· Those who wish to have a more contoured body appearance.
What is WINBACK Beauty?
Cellulite is always seen as an orange peel appearance on your skin with dimpling and nodularity, often on the pelvic region (specifically the buttocks), lower limbs, and abdomen. These stubborn fats are somewhat difficult to be removed; at our affiliated wellness center, WINBACK Beauty is a device specifically designed for reshaping the body, which mainly focuses on cellulite reduction.


How It Works
WINBACK has a direct action on reducing excess fats non-invasively in areas such as the abdomen, hips, thighs, etc. which helps you to redesign your body. The device also regenerates the dermis by acting right down to the deepest layers; known as BIOBACK, it promotes intra- and extra-cellular exchanges between your skin layers, to result in a firmer and more elastic skin, which also includes regaining its natural radiance and for the skin to feel plumped again.

Moreover, the complementary action of THERMOBACK aids in drawing deeply on active substances such as nutrients, oxygen, etc. The metabolic activity in the area enables rapid consumption of the active substances and their evacuation; this also enhances the ability to restart blood and lymphatic circulation, helping to eliminate the fats on the treated area effectively.


Benefits of WINBACK Beauty
· Body shaping
· Cellulite reduction
· Belly slimming
· Visceral revascularization and digestion promotion
· Stretch mark reduction
· Total body relaxation
· Anti-aging and collagen promoting (facial)
· Muscle toning (facial)


WINBACK Beauty Procedure
1. Consultation and examination of the area to be treated
2. Application of WINBACK solution and placing the device onto the area to be treated
3. High-frequency current oscillates to form the action
4. The action works by accelerating the "natural regeneration" of biological tissues
5. Gentle massage may be done to help eliminate more fats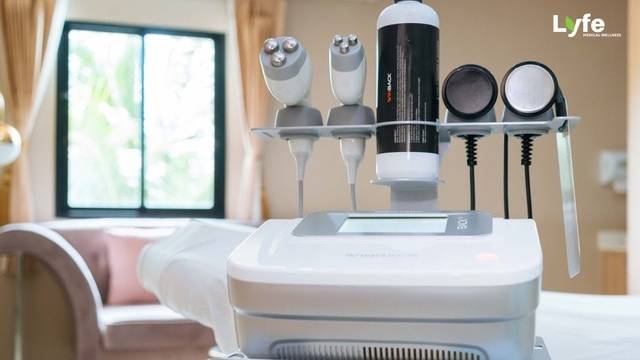 Advantages and Limitations of WINBACK Beauty
<Advantages>
· Accelerates natural regeneration process
· Non-invasive
· Eliminates imperfections on the body
· Reduces cellulite and fine lines
· Firms the skin
· Regains skin natural radiance

<Limitations>
· A package of 10 treatment sessions must be completed for ideal results
FAQ
Q1: How many sessions needed?
A1: 10 sessions are recommended for ideal results.

Q2: Does this help with stretch marks?
A2: Yes, the treatment also helps to reduce stretch marks.

Q3: Does this deal with wrinkles on the body?
A3: Yes, the treatment tones down the wrinkles as well.
Clinic Information
[Clinic Name] Lyfe Medical Wellness
[Location] Phuket, Thailand
[Nearest Station/ Nearest Tourist Destination] Walking distance to restaurants and spas, and within 10 mins driving distance to various beaches and viewpoints.
[Clinic Opening Time] Monday to Friday (8:30AM - 5:30PM)