It Is Suitable For
· Those interested to get a specialised laser treatment for visible veins in Johor Bahru, Malaysia.
· Those with vein problems such as facial veins, telangiectasia, varicose veins, periorbital veins and pyogenic granuloma.
· Those with rosacea, birthmarks, venous flake, cherry angioma and other vein-related dermatology issues.
· Those who wish to improve skin tone and get a skin refresh.
What is Vein Vanisher Treatment?
The Vein Vanisher treatment offered at our affiliated clinic uses a highly-specialized laser or sclerotherapy to reduce and improve visible vein issues. Whether you have rosacea, varicose veins, birthmarks or pyogenic granuloma, you can expect an improvement in your complexion. The results include improved skin tone, reduced congestion, rejuvenated skin and reduced vein-related skin issues.
How It Works
At our affiliated centre, 2 methods can be used to treat visible veins:

· Nd YAG Laser
Our affiliated clinic uses Nd YAG Laser, also known as YAG Spectra Laser, that is effective for eliminating thread veins. It is non-ablative and designed to improve skin tone, reduce unwanted pigment and tattoo ink. During the procedure, laser light is directed onto desired areas and the laser will pierce the skin. Heat from the laser coagulates the blood within the vein and destroys vessels that cause facial veins, hyperpigmentation and other similar conditions. Over a period of 3 to 4 weeks, the blood vessels will disappear.

· Sclerotherapy
Sclerotherapy involves an injection of a salt solution directly into the vein. The solution irritates the lining of the blood vessel, causing it to collapse and stick together and the blood to clot. The vessel will turn into scar tissue that fades from view over time. Sclerotherapy can be divided into 3 types - Direct injection, ultrasound-guided or catheter-guided Sclerotherapy. It is a procedure that is done to remove spider veins and smaller varicose veins.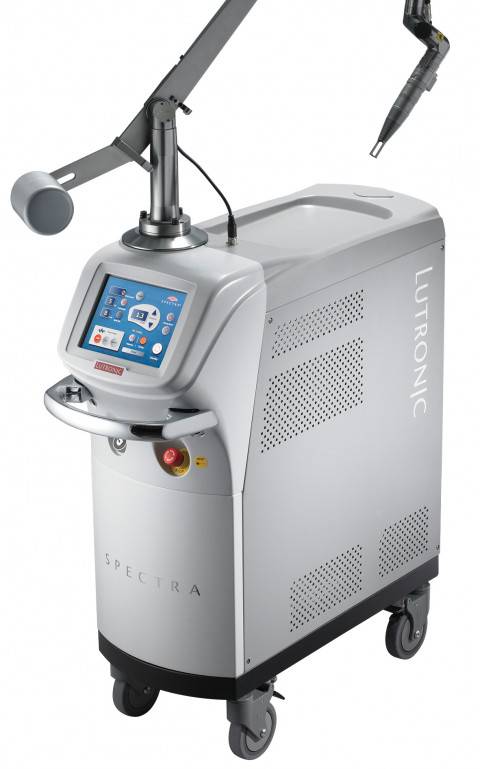 Procedure for Vein Vanisher Treatment
1. Consultation and pre-op testing will be done to examine your condition.
2. Depending on your condition and treatment, numbing cream or anesthesia will be administered.
3. Treatment (YAG Spectra Laser / sclerotherapy) will be performed.
4. End of treatment. You may go home on the same day after the procedure.
Advantages and Limitations of the Vein Vanisher
<Advantages>
· Non-invasive
· Minimal to no downtime
· Effective and safe procedure
· Rejuvenates skin
· Improves skin tone
· Reduces skin congestion

<Limitations>
· More than 1 session may be necessary, depending on your condition
· Possible skin tightening, slight pain or itch during treatment
Treatment Aftercare
· Practice adequate sun protection as skin may become more sensitive after the treatment.
· Be gentle with the skin and only use safe and recommended products for your skin.
· Wash the treated area gently and pat it dry. Avoid harsh scrubbing or wiping.
· Use an antiseptic cream on the treated area if needed, to reduce the risk of infection.
· Please adhere to all aftercare guidelines given by the doctor.
FAQ
Q1: Are the results immediate?
A1: For small spider veins, they can disappear immediately after the treatment. But for large ones or more serious cases, you may notice that they will turn darker before disappearing in 1 to 2 months.

Q2: Is there anything else I should do before the treatment?
A2: It is advisable to let the doctor know which medications you are taking and what medical conditions you have, such as occasional cold sores.

Q3: When can I return to work?
A3: This depends on individuals' cases, so your doctor will give you a duration you need to take leave from work to rest.

Q4: Will it be painful?
A4: It won't be painful as anesthesia is administered. However, some discomfort may be felt during the procedure.

Q5: Are the treatments safe?
A5: Generally, both treatments are regarded as safe by doctors and free of complications.
Clinic Information
[Clinic Name] Dr. Wee Clinic
[Location] Johor Bahru, Malaysia
[Nearest Stations / Attractions] Located in the city of Johor Bahru, Malaysia. A 30-mins driving distance from Senai International Airport, as well as Johor Causeway.
[Clinic Opening Time] Monday to Sunday (10:00AM-7:00PM)